It appears that most stakeholders in the the nutrition facts label conversation agree that updates are overdo. The devil, of course, is in the details. Which facts need to be updated, added, or deleted? How should they be presented graphically? In addition to the agenda of better informing consumers so that they can make better food choices, from the food marketers' perspective there is an additional agenda: branding.
While the nutritional facts label on food packaging is mandated both in content and graphic presentation, and does not relate to an individual product brand, the nutrition facts label has become a brand in and of itself. Consumers recognize it, have learned to read it, and have formed a comfort with its familiarity, even if they would like some changes to the information. The question becomes: how far should the FDA go in updating the label, in light of the "brand" that consumers are familiar with?
Consumers want product information at the shelf level that they can find and consume quickly, usually in a matter of seconds.  Familiarity with the navigation of food packaging, and the nutrition facts label in particular, is extremely important in  consumer acceptance of change. The USDA released a study in January, 2014 that indicates that 42% of working age adults between 29 and 68 read nutrition facts labels most or all of the time when food shopping. That is an increase from the 2007 data that indicated 34% of working age adults read the nutrition facts label of food and beverage products most or all of the time.
With growing consumer interest in nutritional values of foods and beverages, changes to the nutrition facts label needs to consider both the information consumers are looking for and the format in which the information is provided. There is brand equity in the existing label, that like the brand equity in a product identity, has value, and the question in any re-branding effort is:  how far to go….minor adjustments that don't take the consumer too far away from the familiar original, or a major overhaul?  It is important to consider consumer shopping behavior and the need to provide relevant nutrition facts that can be quickly read. If the objective is to get more consumers making better food choices, their point of reference, the nutrition facts label, should make it easier for them.
Nutrition Facts Label/Table – Proposed Changes to Content and Presentation (FDA 2-27-14)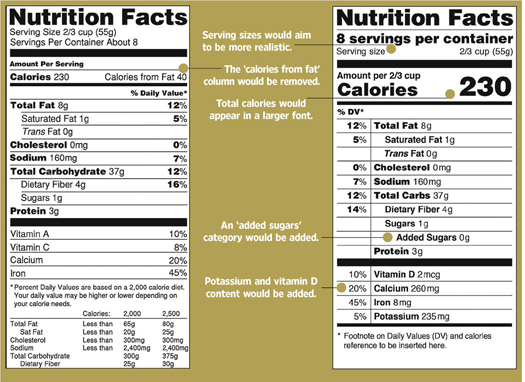 Graphic: Wall Street Journal/FDA